Pharmacy - PGY1
Rochester General Hospital
Thank you for your interest in the PGY-1 pharmacy residency program at Rochester General Hospital.
The program offers a broad range of rotations for a well-rounded experience. Our residency preceptors bring over 200 years of combined specialized clinical and research expertise facilitating a deeper understanding of concepts and practices. These preceptors work closely with the resident to help them achieve professional growth throughout their residency. Residents will be challenged to advance their clinical knowledge, critical thinking, and lifelong learning skills with the goal of transitioning into a competent, independent clinical pharmacist focused on patient-centered care.
Here at Rochester General Hospital, teamwork and a passion for learning are highly valued. Through a multidisciplinary approach, residents are able to gain invaluable experience interacting with physicians and other healthcare professionals to deliver high-quality medical care within a diverse patient population. Please take a moment to review our website to learn more information about our program and our team. We look forward to speaking with you soon.
Beth Sutton Burke, Pharm.D., BCACP, CDCES, BC-ADM
Program Director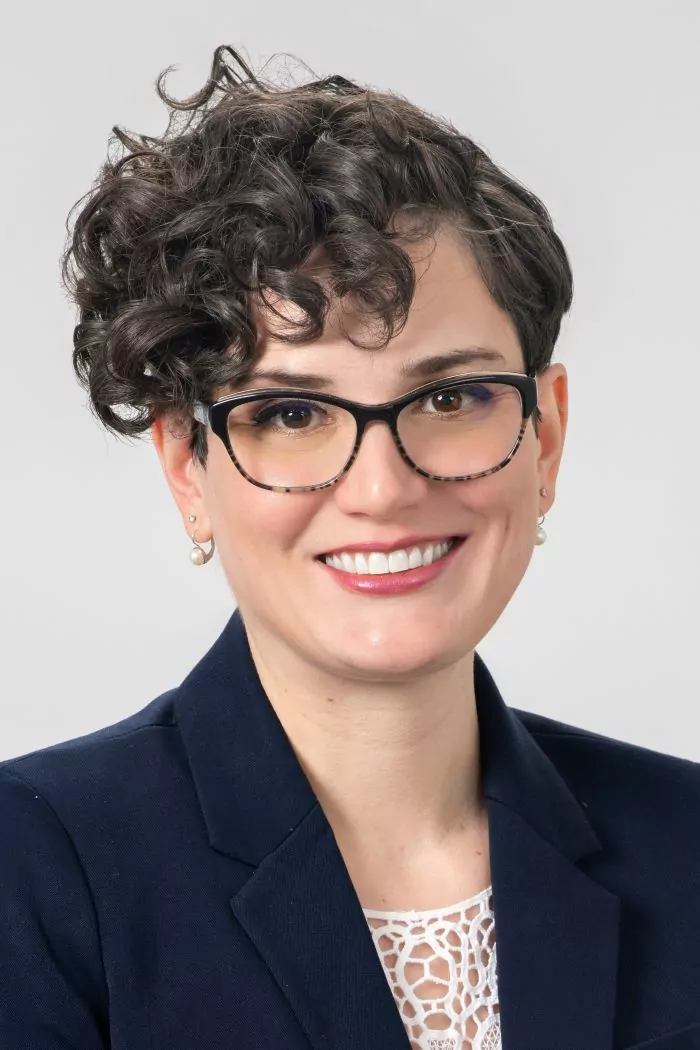 Required Rotations
Anticoagulation Stewardship
Antimicrobial Stewardship/ID
Critical Care
Staffing Core
Pharmacy Administration
Ambulatory Care
Internal Medicine & Surgery
Orientation
Longitudinal Rotations
Pharmacokinetic Boot Camp
Staffing Longitudinal
Teaching Certificate (optional)
Research Projects (2)
Pharmacy Management Topic Discussions Group
Precepting
Presentation Skills
Elective Rotations (Pick 3)
Advanced Critical Care
Advanced Antimicrobial Stewardship/ID
Advanced Pharmacy Administration
Cardiology Inpatient
Cardiology Outpatient
Emergency Medicine
Geriatrics
Hematology-Oncology
Pediatrics
Specialty Pharmacy
The Rochester General Hospital Department of Pharmacy's residency program utilizes ASHP PhORCAS for applications.
Application deadline: January 4, 2023
Beth Sutton Burke, Pharm.D., BCACP, CDCES, BC-ADM
Residency Director
Beth.SuttonBurke@rochesterregional.org
We Require:
Graduate or candidate for graduation from an ACPE accredited pharmacy program (or one in process of pursuing accreditation)
New York State pharmacy intern permit or eligible for intern permit
Licensed or eligible for licensure as a pharmacist in New York State
United States citizen, permanent resident visa or eligibility for a non-immigrant visa that allows work or training in the United States. We are unable to sponsor a H-1B visa due to time constraints with the match process.
Recruitment Events
We will be hosting several recruitment nights this fall. Please contact us or check back later for the event details. Interviews will be held in-person for candidates who live in Western New York, or a virtual option will be offered for candidates living outside the area.
The following is a list of benefits granted to all residents at no charge.
Vacation
2 weeks of paid vacation per year
Medical Insurance
Opportunity to join one of two comprehensive medical insurance plans
Term Life Insurance
$10,000 employer paid coverage with option to purchase added coverage up to 4 times annual salary.
Plan for Short-term Disability
Residents are entitled to up to six months of pay in the event of any disability, compensated at 60% of the resident stipend.
Long-term Disability
Option to purchase 50-67% of pay coverage
Retirement Program
Option to enroll in tax-deferred annuity plan.
Dental Plan
Option to purchase one of two plans available
Travel Stipend (Program Based)
For attending two professional meetings (one national, one regional)
Salaries are paid on a bi-weekly basis. The current annual salary is:
The Greater Rochester area, in the Finger Lakes region of New York, is a truly unique place to live and work. Rochester's urban arts, entertainment and dining venues are complemented by surrounding suburban, rural and lakefront communities. This results in a wealth of options for work and play.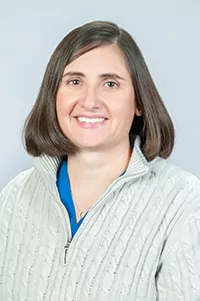 Mindee S. Hite, Pharm.D.
Clinical Pharmacy Specialist – Critical Care
Additional Information
Education and Training:
 Doctor of Pharmacy from Duquesne University
Critical Care Residency at Allegheny General Hospital and an Advanced Critical Care Residency at Memorial Hermann-Texas Medical Center
Practice Area: Medical Critical Care
Residency Preceptor for Advanced Critical Care elective and longitudinal pharmacokinetic boot camp
Justin Jopson, Pharm.D., BCPS
Clinical Pharmacy Specialist – Pediatrics
Additional Information
Education: Doctor of Pharmacy Wegman's School of Pharmacy, St John Fisher college.
Current Practice Area – Pediatrics
Residency preceptor for core and longitudinal staffing rotation, and preceptor for pediatric elective.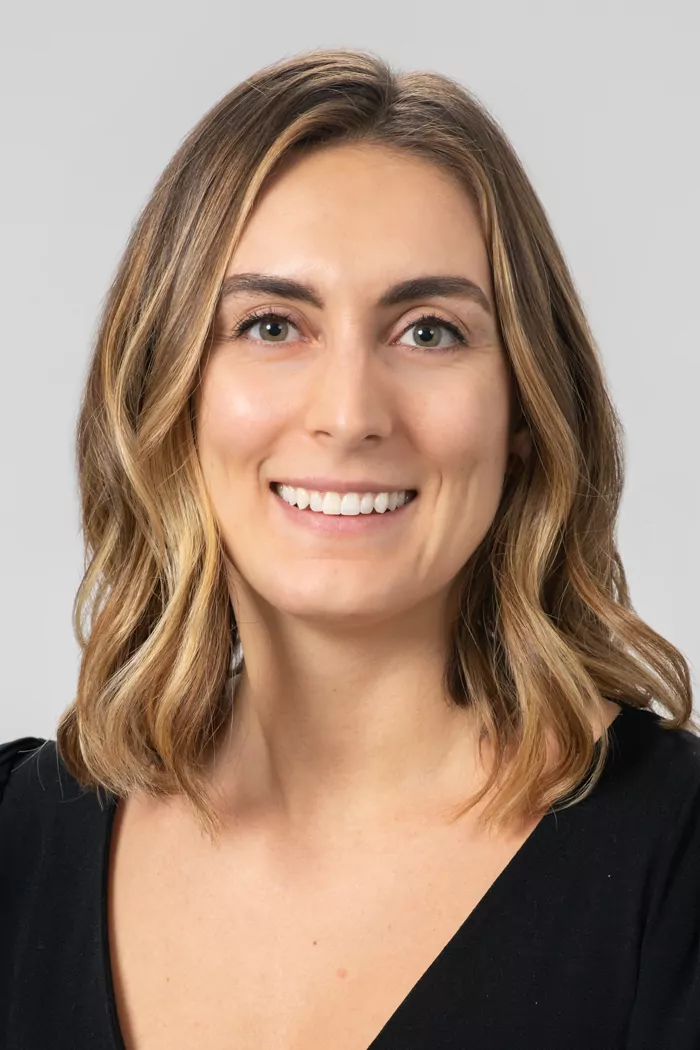 Sarah Leverett, Pharm.D.
Clinical Pharmacy Specialist – Hematology/Oncology
Additional Information
Education and Training: Doctor of Pharmacy at University of Connecticut, Storrs, CT
PGY-1 Pharmacy Practice Residency at San Francisco Veterans Affairs Medical Center, San Francisco, CA
PGY-2 Oncology Pharmacy Residency at University of California – San Francisco Medical Center, San Francisco, CA
Practice Area: Bone Marrow Transplant, Cellular Therapy, Malignant Hematology
Residency Preceptor for: Malignant Hematology/Bone Marrow Transplant elective rotation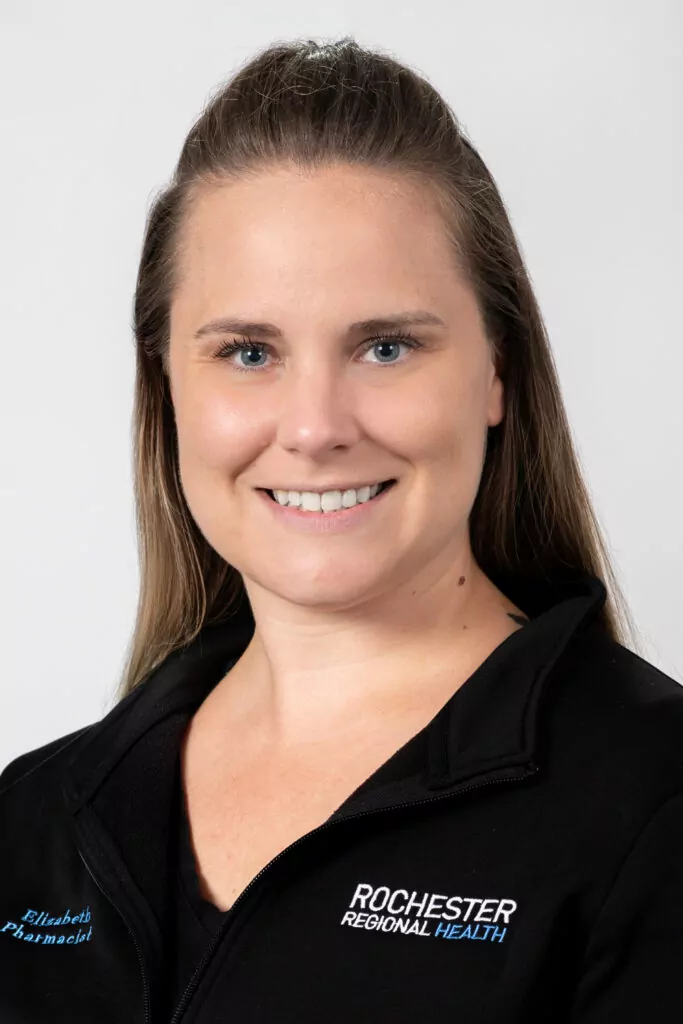 Elizabeth Marvin, Pharm.D
Clinical Pharmacist, Rochester General Hospital
Additional Information
Education and Training:  Doctor of Pharmacy from the Wegmans School of Pharmacy at St. John Fisher College, Rochester, NY
Practice Area:  Inpatient Pharmacy
Residency Preceptor for: Core Staffing
Email:  Elizabeth.marvin@rochesterregional.org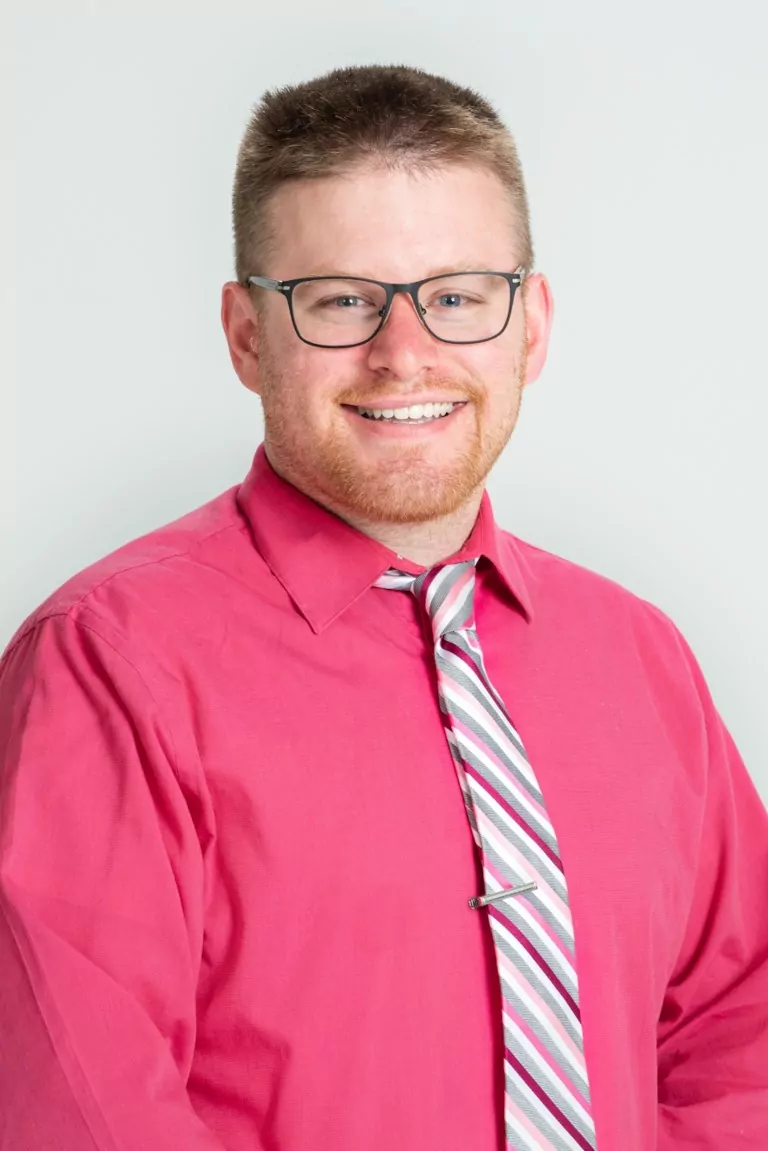 Pat McCabe, PharmD, MBA, BCACP
Clinical Pharmacy Specialist – Cardiology
Additional Information
Education and Training: BS biology, St John Fisher College, Rochester NY
Doctor of Pharmacy, Wegmans School of Pharmacy at St John Fisher College, Rochester NY
Masters of Business Administration from St John Fisher College, Rochester NY
PGY1 Community Pharmacy Practice – Middleport Family Health Center/University at Buffalo NY
PGY2 Ambulatory Care Pharmacy Practice Residency – St John Fisher College and Rochester Regional Health, Rochester NY
Practice Area: Cardiology
Residency Preceptor for Cardiology
The Rochester General Hospital Department of Pharmacy PGY-1 residency is a 12 month full time program building on the Doctor of Pharmacy (Pharm.D.) education. Our mission is to prepare thoroughly competent, independent pharmacists through patient-centered practice in a high acuity hospital. By developing fundamental skills, including clinical problem-solving, self-evaluation, and interdisciplinary communication, the Program aims to bring forth future leaders in the profession of pharmacy.
Rochester General Hospital Pharmacy residents learn in a setting that embraces teamwork – both within the department and throughout the hospital. In our program, residents receive training in essential elements that allow them to become key members of a comprehensive health care team. These elements include:
Managing and improving the medication-use process
Providing evidence-based, patient-centered medication therapy management with interdisciplinary teams
Exercising leadership and practice management skills
Demonstrating project management skills
Providing medication and practice-related education and training
Utilizing medical informatics
Rochester General Hospital Department of Pharmacy
Our department has a 797 compliant IV admixture room and uses medication dispensing stations throughout the hospital which are fully integrated into the hospital's electronic medication system. Enhanced clinical pharmacy services are provided in internal medicine / surgery, antimicrobial stewardship, critical care and anticoagulation.
Accreditation
The Rochester General Hospital PGY-1 Pharmacy Residency is accredited with the American Society of Health-System Pharmacists.
Learn More
The PGY-1 Pharmacy Residency Program PowerPoint and Digital Brochure offer further information about the program.

Our Purpose
PGY1 pharmacy residency programs build on Pharm.D. education and outcomes to contribute to the development of a clinical pharmacist responsible for medication-related care of patients with a wide range of conditions, eligible for board certification, and eligible for postgraduate year two (PGY2) pharmacy residency training.
Follow us
Check out our Instagram for event recaps, resident highlights, preceptor spotlights & more.
Pharmacy – PGY-2
Explore the Rochester Regional Health & St. John Fisher University Pharmacy Residency Program
Residents
View the current residents of our Rochester Regional Health Pharmacy Residency Program
Graduates
View the graduates of our Rochester Regional Health Pharmacy Residency Program