Dentistry
Rochester General Hospital
The General Practice Residency (GPR) in General Dentistry is a 12-month hospital-based program and is designed to offer a balanced and robust clinical and didactic curriculum in general dentistry.
Our Mission is to provide each GPR resident extensive clinical and didactic opportunities in OR dentistry, hospital dentistry, anesthesiology, oral pathology, internal medicine, emergency medicine, care of developmentally and medically compromised patients, trauma/urgent management, oral surgery, conscious sedation, geriatric dentistry, pediatric dentistry, interdisciplinary consultation and other special areas and comprehensive clinical dentistry. GPR residents have clinical exposure and consultation opportunities with full-time specialists from oral and maxillofacial surgery (OMFS), oral surgery and pediatric dentistry five days a week in our clinic at Riedman. Our clinical experiences are supported by a structured didactic seminar designed to encourage critical thinking appropriate to specialty-level education in general dentistry.
The overall curriculum is designed to prepare our GPR graduates with a knowledge base and clinical skill level which will allow successful entry into the contemporary practice setting of general dentistry.
The General Practice Residency program has been planned in accordance with the guidelines for postdoctoral education of the American Dental Association Council on Dental Accreditation. Upon completion of the program, GPR residents receive a certificate in general dentistry.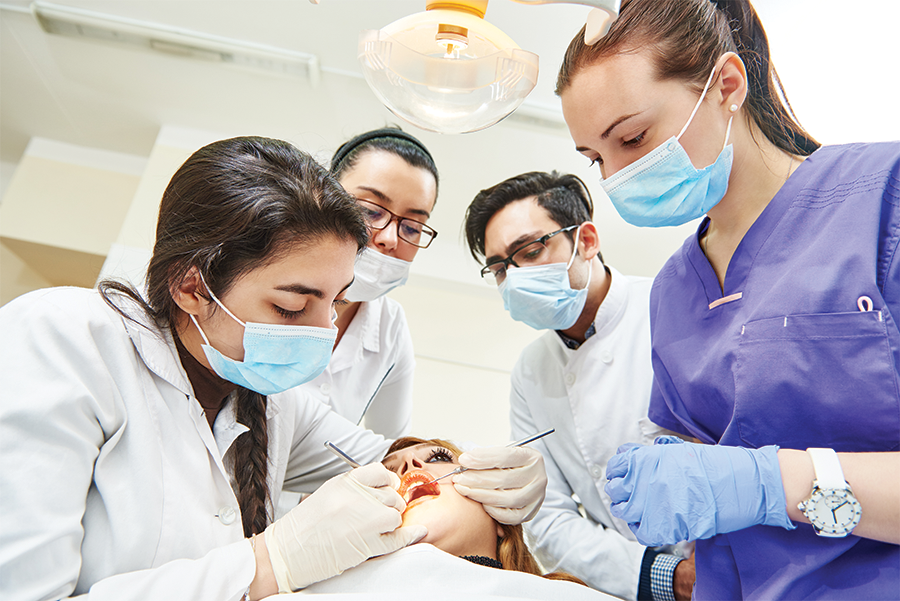 Our Facility:
Riedman Health Center
The Riedman Health Center is a state-of-the-art facility, integrating patient-centered care with advanced technologies, and a network of support services in one convenient location. Boasting 74,355 sq ft of patient and office space, it's one of the largest outpatient facilities in Rochester, offering a full spectrum of care from Primary Care to Dental Care.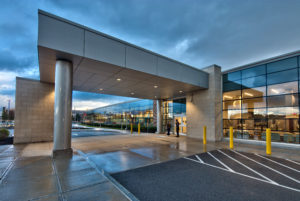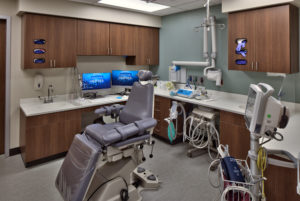 The overall program goals are to educate and train GPR residents to provide patient care in all areas of general dentistry:
To train the resident in general dentistry so they can act as a primary provider and provide general dentistry to individuals and groups of patients. This includes providing emergency and multidisciplinary comprehensive oral health care, providing patient focused care that is coordinated by the general practitioner and directing health promotion and disease prevention activities.
Provide resident education to allow for the application of scientific principles to learning and oral health care.
To train residents in the principles of patient care so they can plan and provide multidisciplinary oral health care for a wide variety of patients, including patients with special needs.
Give the residents experience that will allow an understanding of the oral health needs of communities and engage in community service.
Provide resident training to function effectively within the hospital setting as part of an effective interdisciplinary health care team.
These goals also focus on assuring each GPR resident receives experience in the care and management of hospitalized patients. The majority of the resident's time will be focused at Rochester General Hospital; effectively creating a dental home for the continuity of care.
Outcomes Assessment Process
These goals are evaluated during the year and through an outcomes assessment process. Specific competencies attained by the program graduates are in the following areas:
Providing Emergency and Multidisciplinary Comprehensive Oral health Care
Operative dentistry/Restoration of Teeth
Restoration of the edentulous space, using fixed and removable prosthesis
Periodontal Therapy
Endodontic Therapy: Anterior, Bicuspid and Molar
Moderate Sedation, Pain and Anxiety Control
Evaluation and Treatment of Medical and Dental Emergencies
Providing Emergency and Multidisciplinary Comprehensive Oral Health Care
Obtain Informed Consent
Consultation and referral
Hard and Soft tissue surgery
Medical Risk assessment
TMJ Disorders and Orofacial Pain
Directing health promotion and Disease Prevention Activities
Function Effectively within Interdisciplinary Health Care teams
Applications should be made through the Postdoctoral Application Support Service (PASS). Rochester General Hospital participates in the Postdoctoral Dental Matching Program; applicants must be registered with the National Matching Services to obtain a match code.
Starting Date: July 1
Completion Date: June 30
Application Fee: RGH is a Match Participant #285125
PASS program: GPR595
Degree/Certificate Offered: Certificate
Length of the Program: 12 months
Enrollment: 6
Deadline for Application: October 15, 2022
If you have any questions or would like to arrange a tour of the Rochester General Hospital facilities, please contact the General Practical Dental Residency Program Director:
Renee Pellegrino, DDS
585.974.5086
renee.pellegrino@rochesterregional.org.
Clinical Patient Care Activities
Clinical dental services
Residents are typically scheduled for direct patient care from 8:15am to 12pm and 1pm to 4:30pm. Patient care is scheduled throughout the year at the Rochester General Hospital Outpatient Dental Center. Residents are responsible for the comprehensive and emergency care of patients in the Department of Dentistry. They are supervised by the employed and volunteer attending staff of the department. Time is allocated for endodontic, periodontic, pediatric prosthodontics, and oral and maxillofacial surgical treatment under the direct supervision of the respective specialists. Clinical experience in placement and restoration of osseointegrated implants is provided. Residents also gain clinical experience in the administration of IV moderate sedation for dental patients. Digital radiography, rotary endodontic equipment, and digital scanning are utilized in the dental clinic.
Residents provide comprehensive care to geriatric, developmentally disabled, and medically complex patients. This is accomplished in the OR and through a structured clinical block in our outpatient clinic.
On-call
Residents perform emergency service duties (first call) after hours in consultation with Emergency Department staff.
Inpatient care
Residents assigned to inpatient care are responsible to obtain and/or review histories, manage and follow-up patients admitted to the dental services. Residents also participate in delivery of dental care in the operating room. A rotation schedule is designed to assure that each resident receives experience in the care and management of hospitalized patients. Residents may rotate to other local facilities for additional training in providing care in the operating room.
Anesthesiology
Residents are assigned to the RGH Department of Anesthesiology for a total of 70 didactic hours structured in a two week block. Residents participate in the administration of general anesthesia and moderate sedation to impatient and ambulatory surgery patients under the direct supervision of an anesthesiologist. Residents will also have the opportunity to perform intubation.
Physical diagnosis
The hospital's Department of Medicine provides a two day didactic and clinical course that allows resident to gain competence in obtaining medical histories and performing physical evaluations with a medical attending. Additionally, residents will participate in a 35 hour/one week clinical rotation where they round with the department of medicine. During this time, the dental resident will work directly to complete the H &P on medical patients; this rotation fulfills 35 of the required 70 hour mandated medicine rotation.
OMFS
Residents will gain experience through a rotation each Tuesday and Thursday for one month with our OMFS attending at RGH. Responsibilities will also include going to the OR with the surgeon when necessary. RGH has just hired additionally a full time employed oral maxillofacial surgeon to facilitate an OMFS block with a clinical and grand rounds didactic component.
Emergency Medicine
Residents will gain experience through a rotation each Tuesday and Thursday for one month with our OMFS attending at RGH. Responsibilities will also include going to the OR with the surgeon when necessary. RGH has just hired additionally a full time employed oral maxillofacial surgeon to facilitate an OMFS block with a clinical and grand rounds didactic component.
BLS/ACLS:
Residents will become certified in BLS and ACLS.
Venipuncture/Intubation
Residents will visit the training center on the RGH campus to gain experience with intubation via manikin simulation training. Residents will also perform live venipuncture with the department of nursing during a four hour training session.
OR: Special Needs and Pediatrics
Residents will rotate through the OR in treating patients with special needs with multiple attendings at RGH and at the University of Rochester/ Strong Memorial Hospital. Further experience will be gained when rotating through the OR with our full time pediatric dentist at RGH.
*The program has flexibility to allow for additional assignments to areas of interest to individual residents. This may include additional off-service rotations or assignments.
Didactic Program
There are mandatory scheduled lectures, seminars and courses provided in various dental and medical subjects. Courses are provided in specialty areas such as pediatrics, endodontics, prosthodontics, orthodontics, maxillofacial surgery, implant dentistry, IV/NO2 sedation, oral pathology, TMJ to name a few. Other seminar areas of interest include:
Scientific Evaluation of Dental Literature
Treatment Planning Conferences
General Dentistry Grand Rounds
Practice Management
The following is a list of benefits granted to all GPR residents at no charge.
Medical Insurance
House staff and their immediate families are provided with the opportunity to join one of two comprehensive medical insurance plans. The Hospital contributes a portion of the cost of the premiums.
Vacation
3 weeks of paid vacation per year
Professional Liability Insurance
Professional liability insurance is provided by Rochester General Hospital's insurance program for activities required by the residency program.
Term Life Insurance
$10,000 employer paid coverage with option to purchase added coverage up to 4 times annual salary.
Plan for Short-term Disability
Residents are entitled to up to six months of pay in the event of any disability, compensated at 60% of the resident stipend.
Long-term Disability
Option to purchase 50-67% of pay coverage
Retirement Program
Option to enroll in tax-deferred annuity plan.
Dental Plan
Option to purchase one of two plans available
Salaries are paid on a bi-weekly basis. The salaries for the 2023-2024 academic year will be: (salary + stipend)
The Greater Rochester area, in the Finger Lakes region of New York, is a truly unique place to live and work. Rochester's urban arts, entertainment and dining venues are complemented by surrounding suburban, rural and lakefront communities. This results in a wealth of options for work and play.
Jolly M. Caplash, DMD
Department Chair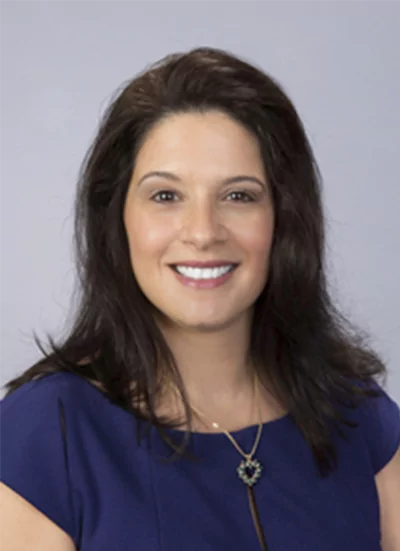 Renee Pellegrino, DDS, MPH
Residency Program Director
Leslie Laboy
Program Coordinator
Leslie Laboy
Program Coordinator
Pluta Dental Center at Riedman Health Center
General Dental Residency Program & Oral Maxillofacial Surgery Residency Program
1455 East Ridge Road
Rochester, NY 14621
Leslie.Laboy@rochesterregional.org
O: 585-974-5043
F. 585.922.4495